5 Comfortable Night Dresses for Women in Summer: Looking for a night dress that promotes the comfortable, most calming feelings for summertime sleep? You may put an end to your quest for the cool nightwear that strikes the ideal mix between comfort and style right here.
Here, you can find the best collection of beautiful and comfortable summer night dresses for women and girls. All the nightdress sets for ladies listed below are perfect for those who want luxury in their nightwear! They are the ideal comfy and stylish combo for the summer night since they are fascinating and enticing.
For your convenience and to help you make your purchasing decision, we have put together the best 5 comfortable summer night dresses that all women will love.
Top and Short Set/ T-shirt & Short Set
Nightwear during the summer must be comfortable and made of cotton. Nothing is more perfect for summer than a women's summer night suit with shorts. In addition to being comfortable, these t-shirts & shorts sets are also loose-fitting and cosy for beating the heat. Cute night suits for ladies that include shorts have a unique charm. Increase the attractiveness with a cotton combo of top and shorts for even more cuteness.
Capri Set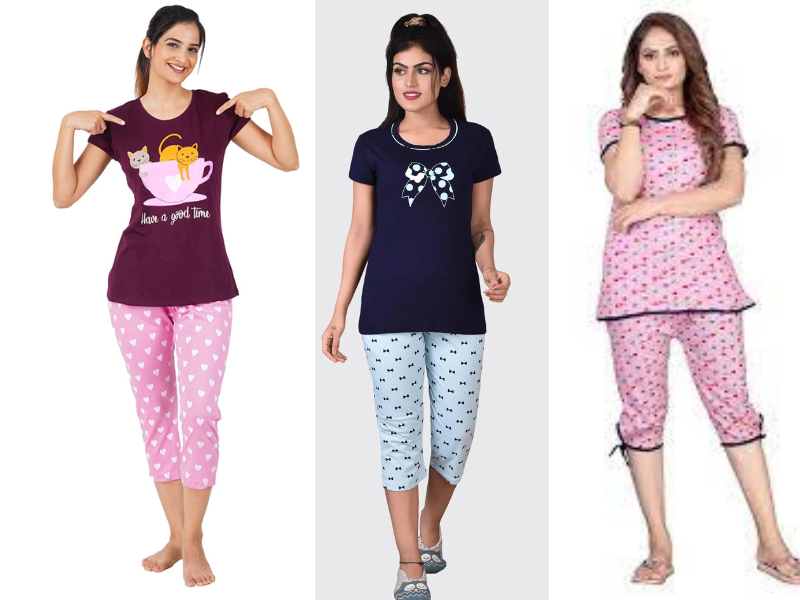 If you're the kind of lady who enjoys sleeping in a matching set, a lovely summer night suit is the best choice for you! Women can dress for bed in nightgowns that combine the shorts-and-top and pyjama-and-top appearances. Capris are bottom-wear items that are neither as short as shorts nor as long as pyjamas. They come in knee-length and are pretty pleasant to wear in summer, you may easily find the perfect women's Capri set for summer online or offline shop.
Also Check: Women's Sleepwear & Loungewear, Designer Female Nightwear Brands in India
Baby doll Nightgowns
A baby doll is a trendy ladies' nightgown that may be worn to show off our curves and appear elegant when getting into bed. To make you look good and provide a comfortable night's sleep, there is a wide selection of baby doll nightgowns available in both offline and online markets, in a variety of sizes, materials, and designs.
Short Nighty
Women's summer night apparel is a little fancy, light, fashionable, and useful. You could feel immediately pampered if you wear short nightwear. For a cool, pleasant night's sleep on warm summer nights or the ultimate girls' sleepover, they are the ideal girls'/women's nightwear. For a sleepover, you may dress up and be trendy by wearing a summer night suit. Girls and teens should also be able to see themselves in elegant short nighties, not only women.
Long nighty
Long Nighty is super comfy for a lady who loves more freedom while tossing and turning in bed, these dress-type summer nighties for women are your calling. Comes in a lot of various styles, patterns and prints and fabrics like cotton, blended cotton, satin and hosiery that make the ideal summer night dress for women! They'll make you feel amazing as you sleep quietly because they're dreamy, blossoming, and positive.
Summertime comfort and a restful night's sleep may not be come by putting on a random nightgown. If you want to feel comfortable at night, you must choose the appropriate nightwear. The tips provided above for selecting the best summer nightwear will provide outstanding comfort and a good night's sleep.