Designer Women Sleepwear & Loungewear: Your choice of nightwear can have a significant impact on how you sleep. Choosing the best designer and comfortable nightwear brand is more important than choosing other nightwear. We have handpicked some of the best designer nightwear for females in India. Be it cotton or silk or satin, designer branded sleepwear close to the skin is more breathable and comfortable as well as provides a highly luxurious feel.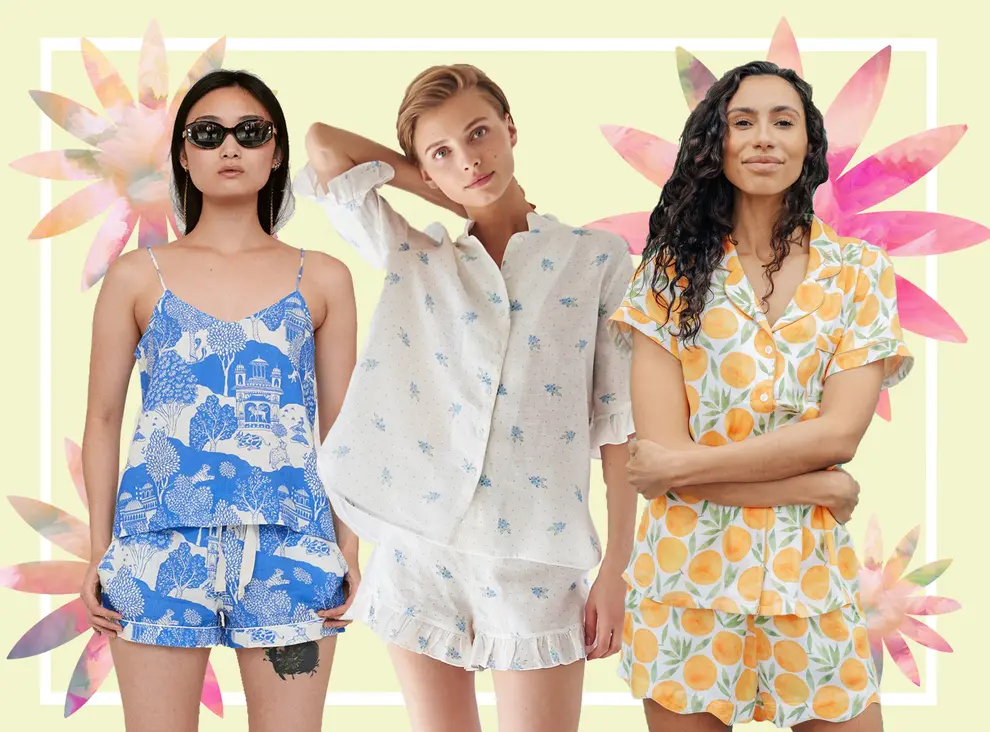 Marks & Spencer
You can get ready for bed in easy style with this women's nightwear brand. All nightwear sets are available in a variety of delicate colours, bright exotic themes, lovely floral patterns, and are made of cloudy-soft cotton-rich fibres. This brand is best known for its satin sleepwear, so if you're looking for a little glam, go no further than this Marks & Spencer nightwear. Moreover, this brand offers numerous nightwear collections including Fleece Dressing Gowns, Grey Dressing Gowns, Modal Mix, Rosie, Short Sleeve Nightdresses, Cotton Pyjamas, Nightdresses, Pyjama Sets, Dressing Gowns, Long Dressing Gowns and more.
Also Check:
Dandelion
This designer sleepwear collection includes a night outfit for any mood. This Bollywood-favorite brand will become a staple in your wardrobe. From silky cotton PJ sets to poplin robes and pin-tucked camisoles, Dandelion offers something for everyone, men, women, and children. Male and female night suits, breezy co-ords, and loungewear pieces such as jumpsuits, long-line dresses, and more are all available from this brand.
Pinklay India
Pinklay works with 200 Indian craftsmen on ikat, daabu, hand-block print, ajrak, kalamkari, patchwork, embroidery, and more, which is represented in the products, including the 100% fine cotton nightwear collection that is soft, breathable, and ideal for a restful night's sleep and ideal for lazing at home on a peaceful afternoon. The brand provides a wide range of breezy matching sets, kaftans, robes, and other loungewear pieces that are ideal for cheering up a dark day.
Dusk
Want to look trendy with a touch of desirability, while getting some beauty sleep, then it's best to go at dusk! From a silky and slinky nightie to a pyjama set, all are ideal for reaching that desire. And it's perfectly fine and suitable when your aesthetic choices for sleeping are within the specified range.
Sweet Slumber
If you're looking for a designer with elegant night outfits, this is the one for you. Sweet Slumber is a locally owned and operated brand that offers nightwear and other items online. Its night wears are mostly known for the most beautiful hand-block Jaipuri style flower design that is made of 100% cotton. They offer seamlessly blends flair with comfort, with most of its designs appropriate for both day and nightwear.
Maybe you like to wear nightwear according to your mood and comfort. Sometimes you just want to sleep in comfort or warmth, or glamour, and, of course, sometimes you choose your nightwear based on romance. The listed above brands are famous in India for providing the best and most stylish nightwear for females. You can choose it based on your preferences and needs.