5 Best and Tasty Veg Food Ideas for a Christmas Party at Home: Be it a Christmas dinner or a Christmas cocktail, you may find the best, easiest-to-prepare food ideas for a Christmas party in this blog. You can make this year's celebration a success by ensuring your guests are satisfied. Discover some quick and simple Christmas party veg food ideas here so you can stay organized, feel less stressed, and most importantly enjoy Christmas.
5 Best Veg Food Ideas for a Christmas Party at Home:
STUFFED BAKED POTATO
You're going to adore this recipe: potatoes with caprese stuff, topped with balsamic and broiler-melted cheese.
Ingredients
Sea salt
8 to 10 medium medium-sized cleaned and dried potatoes,
One bundle of basil leaves
2 tablespoons butter
5 roasted tomatoes in oil (chopped)
2 tablespoons of olive oil
250 grams of chopped fresh mozzarella
Instructions  
Heat an indirect grill to 400 degrees.
Dry and rinse the potatoes. Apply olive oil and salt to the area before rubbing.
Potatoes should be grilled for 45 to 60 minutes until fork tender.
Now take the potatoes off the grill and cut some top portion of each potato. Take some potato flesh separately to mash it in a bowl. Add to the butter, chopped tomato, chopped fresh mozzarella and salt mixture. Mix well.
Refill the potato skins with the filling. On top of the potatoes, equally, place the mozzarella and tomatoes.
Grill potatoes for 5 to 10 minutes, or until cheese is melted and bubbling.
Serve after removing from the grill and topping basil.
VEGAN PANCAKES
Ingredients 
All-purpose flour- 1 cup
Brown sugar- one tablespoon
Baking powder- 1 tablespoon
Salt- 1/2 teaspoon
Oat or almond milk- 1 cup or Other non-dairy milk options, such as soy milk also work.
Coconut oil-2 tablespoons
For frying: Vegetable or coconut oil and Maple syrup
For serving: fresh fruit (optional)
 Instructions
Add the flour, sugar, salt, and baking powder to a bowl. Use a whisk to blend until smooth.
After allowing the batter to rest for five minutes, preheat a non-stick pan.
Next, add a few drops of vegetable or coconut oil to the pan and spread it with some kitchen paper, which ensures that the pancakes won't stick.
Over a low flame, cook the pancakes for 2 to 3 minutes on one side or until bubbles begin to form around the edges. Flip them and Cook for a further 2 to 3 minutes on the opposite side or until golden brown.
Pancakes ought to be cooked in a high-heat pan then low-heat flame. Pancakes can be made in any size that you choose. Your pancakes should be prepared once both sides are golden brown.
Serve with slices of banana, blueberries, and pure maple syrup on the side.
Also Check: 10 Amazing Gifts Ideas for Your Wife on Christmas
PANEER TIKKA
Although paneer tikka is a widely consumed Indian dish comprised of paneer chunks that have been spice-marinated and cooked in a tandoor. However, including this dish will give your Christmas party a spicy touch.
Ingredients
12 cups full-fat plain paneer/ yoghurt
1/2 tablespoon of ginger, 1/2 tablespoon garlic pastes
1/2 tablespoon turmeric
One and 1/2 teaspoons of salt
1 tablespoon Kashmiri red chilli powder
1/2 tablespoon garam masala and chat masala
1 tablespoon dried fenugreek leaves (kasoori methi)
1 lemon juiced
Smoked paprika (optional)
Instructions
One pound of paneer, cut into 1-inch cubes, one medium red onion, one medium green capsicum, and one medium red pepper, each cut into 1-inch cubes. However, feel free to add other vegetables, such as zucchini or mushrooms, which go well with paneer.
Beat the curd, add salt, black pepper, Fenugreek Leaves (Kasoori methi), Garam Masala, Chat Masala and ginger and garlic paste salt, turmeric powder, Kashmiri red chilli powder and mix them well.
To prepare paneer tikka for grilling or cooking in Airfrayer
Place paneer cubes, onions, capsicum, and zucchini or mushrooms on a tray.
In the tray, mix the masala. Paneer cubes should be marinated.
The paneer tikkas should now be refrigerated for 45 minutes.
Now Thread onto skewers and air fry for 8 minutes at 360°F (180°C).
Place the paneer tikka again in the air fryer basket and reheat for two minutes at 360 F.
Simply squeeze a fresh lemon over the skewers to serve hot with green sauce.
VEGAN VEGGIE-STUFFED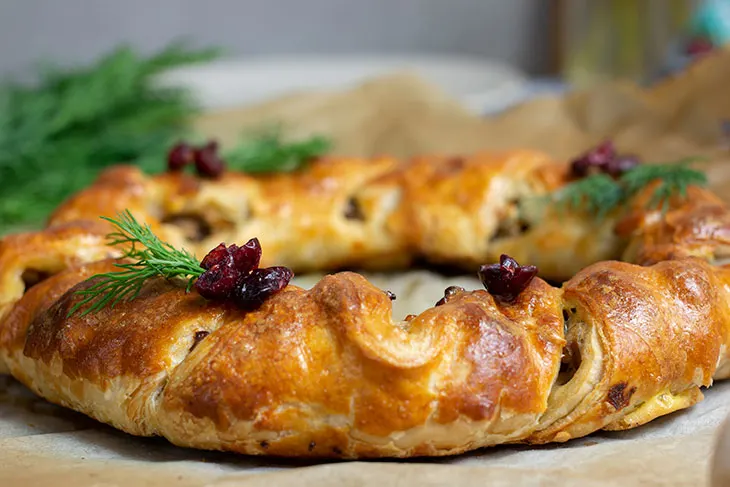 The most adorable and delicious Christmas garland will make your party great when you lay it on your dinner table for your loved ones this Christmas.
Ingredients
200g tofu or paneer, 200g of the crushed mushroom mixture,
2 Tbsp chopped pine nuts
Minced one garlic clove, 2 tbsp dill, 1/4 tsp nutmeg
One sheet of pastry dough
One tbsp of oil
Salt and Pepper
Instructions
Roast the pine nuts in a dry pan.
Sauté the garlic after adding oil.
Salt and pepper the tofu and add it together with mushrooms, nutmeg, and dill.
It is best to cut the pastry dough into circular triangles, set them there, cover them with the ingredients, and then seal them.
Now Place the Veggie-Stuffed dough in the oven and set time baking time at 20 minutes at 180 degrees.
RED VELVET CUPCAKES
Making these cupcakes is simple and a lovely way to give your Christmas event a festive feel. They are the creamiest, most delicious, and coated in glitter and icing snowflakes red velvety.
Ingredients
All-purpose flour- 2 cups
Cocoa powder- ¼ cup
Baking soda- 1 teaspoon
Baking powder- 1/2 teaspoon
Kosher salt- 1/2 teaspoon
Granulated/ brown sugar- 1 1/2 cups
Red Food colour-1 tablespoon
White vinegar- 2 teaspoons
Vanilla extract- 2 teaspoons
Butter- 1 1/4 cups
Buttermilk- 1 cup
cream cheese- pack of 2
To decorate, use red food colouring in the form of a gel or paste and red and white sanding sugar.
Instructions
Mix the All-purpose flour, cocoa, salt, baking soda, and baking powder in a medium bowl. Heat the oven to 350°F temperature. Two to 10-cup muffin tins should be lined with paper liners.
Now, mix 3/4 cup butter, vinegar, food colouring, and sugar granules in a large bowl. After being whisked, the mixture ought to be foamy and light. Using an electric mixer makes the process simpler and more productive.
Add each buttermilk and the flour mixture one at a time, reduce the mixer's speed while blending, and mix until smoothly blended.
The batter should now be spread evenly across all of the pans and baked for 18 to 20 minutes, or until a wooden pick inserted in the centre comes out clean. Allow the cupcakes to cool in the pans for five minutes before transferring them to a wire rack to finish cooling.
To make the cream cheese frosting, beat the remaining 1/2 cup butter and cream cheese and a teaspoon of vanilla in a big bowl and stir until smooth approximately one minute.
Now Pipe the frosting on top of the cupcakes after they have cooled.