A powerful suicide blast near the residence of Pakistan's Punjab province Chief Minister Shahbaz Sharif in Lahore on Monday killed 27 people, including One sub-inspector, 1 assistant sub-inspector, and six constables were among dead and 57 others wounded. Confirming it was a suicide blast, the Lahore police said the "target of the blast was the police". Moreover, as Geo News reported that the attacker targeted police personnel deploys at the site. The area has been cordoned off by a heavy deputation of security forces and the portion of the road has been sealed. A suspended Taliban faction claimed responsibility for the suicide explosion, verifying they used a suicide bomber on a motorcycle.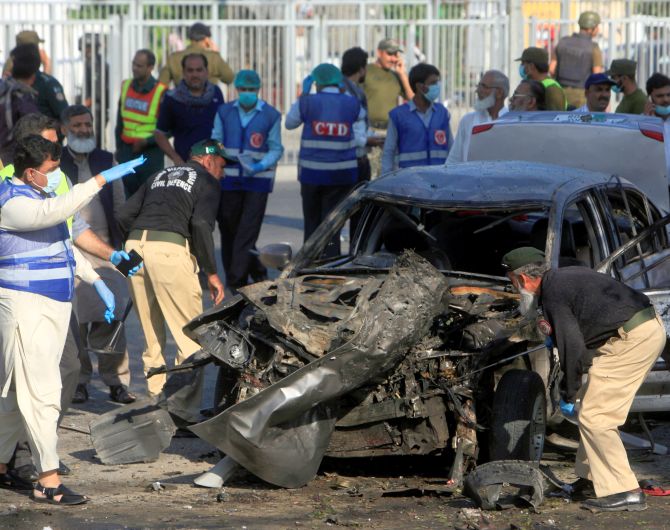 Rescue teams shifted the injured to hospital. The emergency was declared in city hospitals. "The condition of several injuries is stated to be critical," Shahnaz said."Around 29 injured people are being treated at Lahore General Hospital, 18 in Ittefaq hospital and 9 in Jinnah hospital.'' the official Twitter account of the Government of Punjab tweeted.
When a powerful blast took place, Police and Lahore Development Authority officials were busy in removing encroachments outside the Arfa Karim Tower, located near the CM's Model Town house, Rescue 1122 Deeba Shahnaz said.
No group has claimed responsibility for the blast. DIG Operations Haider Ashraf was quoted "We are collecting proof and this could be a suicide bombing. The death toll includes police and civilians".
Pakistan's Prime Minister Sharif strongly condemned the blast and directed officials to provide best possible medical treatment for the injured.
The U.N. Security Council condemned "the terrible and cowardly terrorist attack" in the strongest terms and underlined the responsibility of all countries to help and support Pakistan bring those sensible to justice. Members repeated that "any acts of terrorism are criminal and unjustifiable."