Narendra Modi Government has launched about the National Health Protection for the poor people of the country on the day of Independence of 2017.  Which is already broad and announced in the current financial year budget. As per the Modi speech, under this scheme, the govt will give average coverage 1 lakh per person. This will assist them to accelerate the faster than other health insurance policy.
Below is the complete detail of health schemes launched by the Narendra Modi Government in the year 2017.
The national health scheme is an insurance policy launched by the Modi govt for poor people can get the insurance coverage up to 1lakh. According to the policy people who belong to the poverty line or financially weak, they will get this benefits.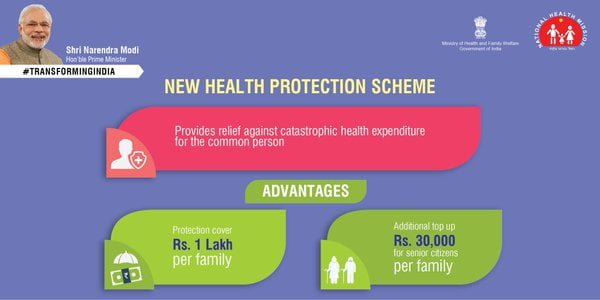 Main Aim of  the National Health Scheme
The main aim of the scheme is to give financial support to those people who have lost their family member any accident or natural disasters;
To protect the person from the health disease or major health issues due to any accident.
As per, the finance minister expenditure there around 10 crore BPL families and other weaker group will get the benefited of this scheme.
The total budget allotment of this scheme in Rs. 24 crore, At the first place the health minister announced the maximum coverage is Rs 30 thousand per person. But as MP Modi has mentioned the revised Covergare the amount is RS 1 lakh maximum for per person to boost up the scheme rapidly.
The time duration of the scheme is set as five years maximum. According to the report if needed govt will increase the budget as well.
Scheme – National Health Protection Scheme
Launched- 2017 Budget
Launched by – Central health ministry
Beneficiaries- BPL Family
Maximum Coverage- 1 lakh
Total budget – RS. 24 Crore
Time Duration – 5 years