Diwali 2021 is around the corner, so it is obvious that preparations are just about to begin on in every house at this time in India and abroad too. Diwali is a famous festival of Hindu religion, celebrated almost all over India for the victory of light over darkness and Goddess Lakshmi and Ganesha are worshipped in every house.
Decorating your home for Diwali gives you a blissful joyous feeling while also giving your home a beautiful look. So if you're looking for artistic ideas to make your home more fascinating, check out these exclusive yet affordable decorative home ideas with beautiful decorative diyas and lights.
Glass Jar Lamp/Lantern Decoration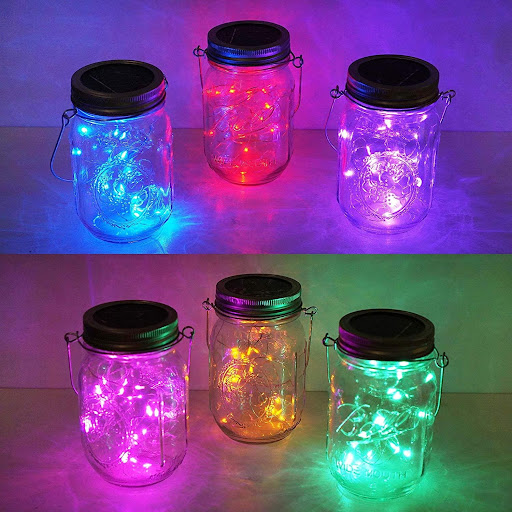 It is one of the elegant decorative easy-to-do decorative ideas for this Diwali.  Take decorative led lights and a big empty glass jar,  you can use old jam or sauce bottles by painting them gold and filling the light in that jar. You may light a bunch of fairy lights or small candles inside the jar and arrange them creatively graceful.
Craft Paper Bag Lantern
Paper bag lanterns are an eco-friendly way to decorate your home this Diwali. You need some different colour craft paper and cut them to give a different shape, place small candles inside and light up them. Whether you put this paper bag lamp on the table or hang it, it looks unique and striking in every way.
Make Rangoli with Flowers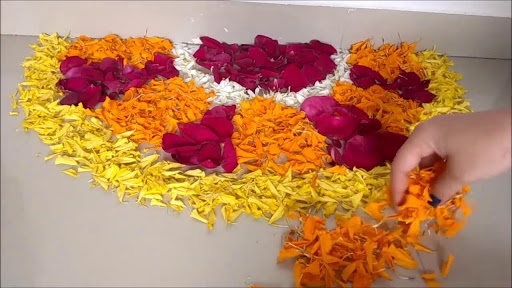 If you want to make a Rangoli, don't go out and buy various colours of coloured clay; instead, this Diwali, stick to natural and eco-friendly Rangoli ideas. Try making Rangoli with flowers as an idea of creating rangoli with flower's petals is so unique and easy to accomplish that you won't need to spend hours or days on it. It will not only enhance the beauty of your home but also be helpful to the environment. So be ready to decorate your front gate or open courtyard by making a unique Rangoli. You have to buy out some fresh flowers to make it appealing and light up some colourful diyas around it. 
Diwali Torans Decoration at Home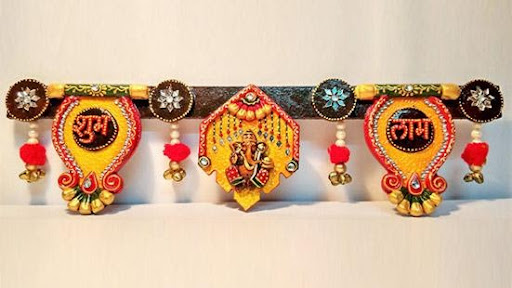 Diwali Torans, or wall hangings, are not only decorative items but also auspicious and are used to decorate the main entrance to welcome Goddess Lakshmi with colour and happiness. To add that traditional Diwali charm, you can also use Ganesha wall hangings or create Torans out of recycled items.
Flower & Floating Candles Decor on Diwali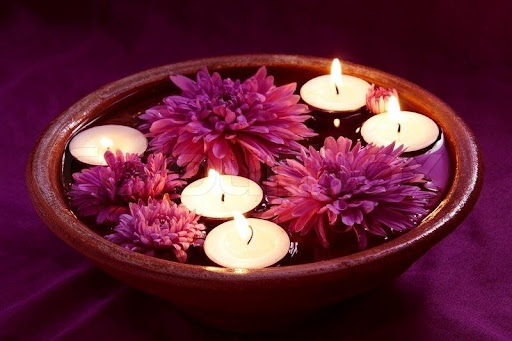 Flowers are essential for Diwali decorations. Use fresh flowers on the doors and windows to give them a pleasant smell and to enhance their appearance. Create low centrepieces with brass utensils or glass bowl, fill some water into it, to make a bright and beautiful arrangement, place fresh colourful flowers and floating candles in it.
Beautify your home Paper Cup Lights
This Diwali, decorate your home with Paper Cup Lights, which will not only offer your home a beautiful design but will also add to your festive spirit. To make a one-of-a-kind Diwali decoration, all you have to do is buy some small fairy lights or bulbs, get some disposable polystyrene cups, and paint the cups in different colours and cut them in floral shapes. Make a chain out of it by adding tiny light fairy lights or bulbs
Light Up Your Home With Colourful  Decorative Diyas
Diyas are the main symbol of the festival of Diwali and the more diyas you light around your home, the brighter it will look. But it is usual to light the ordinary diyas on Diwali.  So let's modify this ordinary diyas into beautiful decorative diya this Diwali. Earthen diyas are not very expensive, you may customise them in whatever way you like or according to a particular theme.  Or you may buy coloured clay diya from the market if you don't have time to paint or decorate them yourself.
String Up Lights Outside The House
If you do have not enough time to decorate your home's outer space, pick up some beautiful and embellished String lights from the local store and light them up every outside corner of the house, it gives extra opulence to your home. This may be the quickest and greatest decorating concept included in the list.