Chhath Puja 2019 Date & Time, Surya Shashti Timing in Bihar, Delhi, UP, Jharkhand, Puja Tithi, Muhurat & Vidhi: Chhath is an ancient Hindu Vedic festival dedicated to the Sun God, Surya Shasthi and Chhathi Maiya. The Chhath Puja is performed in order to thank Surya for sustaining life on earth and seek his blessings, good health, and happiness. Chhath Puja or Chhath Parva is observed in Northern India, especially in the state of Bihar, Uttar Pradesh, Delhi & Jharkhnad. The festival is celebrated on the sixth day of the month of Kartik of the Hindu Calendar. This year, Chhath Puja will be celebrated from 1st November to 3rd November 2019.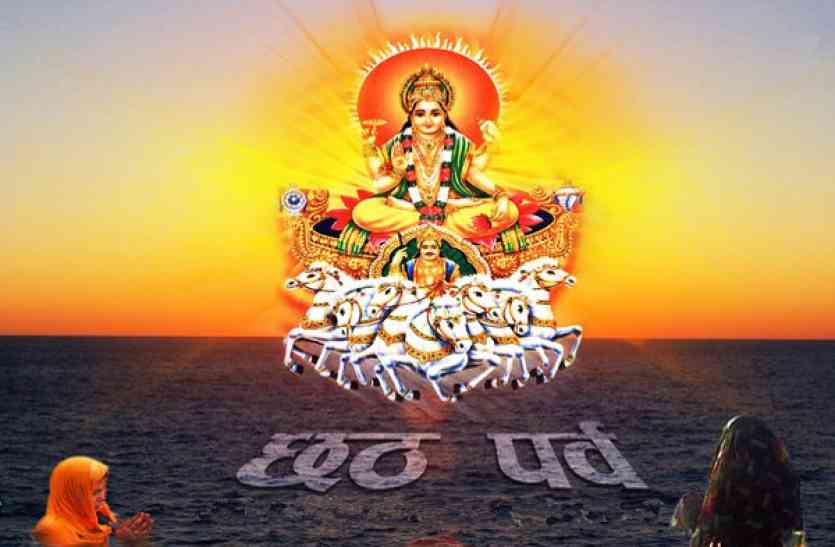 History & Rituals of Chhath Puja:
It is believed that when Lord Ram and Sita were returning back to Ayodhya after 14 years of exile, Sita had observed a fast and performed a puja for the Sun God in the month of Kartik in Shukla Paksha. From that time onwards, Chhath puja became the important event in the Hindu religion.
Chhath Puja Vidhi:
Chhath Puja is celebrated for four days and the customs/rituals differ each day. On the first day, the enthusiasts take a dip in the Sacred Ganges early in the early morning and bring some holy water along to prepare offerings.  Devotees eat one meal and observed throughout the day.
On the second day, the day before Chhath, enthusiasts observed for the whole day which ends in the evening after sunset. Before breaking fast  all devotes pray to the Sun and offer prasad consists of sweets that include Meetha/Gur Kheer, thekua, laddoo made of rice grit and fruits like sugarcane, sweet lime, and banana.
On the third day, enthusiasts along with their members go to the river and offer prasad to the setting Sun. People wish for their happiness, good health, and success.
On it all day, enthusiasts head to the river before the sun rises and offering to the rising Sun and break their fast and feast on the prasad with their family and friends.
Chhath Puja Tithi 2019:
छठ पूजा 2019
2 नवंबर
छठ पूजा के दिन सूर्योदय – 06:33
छठ पूजा के दिन सूर्यास्त – 17:35
षष्ठी तिथि आरंभ – 00:51 (2 नवंबर 2019)
षष्ठी तिथि समाप्त – 01:31 (3 नवंबर 2019)
Shashthi Tithi Begins – 12:51 AM on 02 Nov, 2019
Shashthi Tithi Ends – 01:31 AM on 03 Nov, 2018
Sunset (1st Day) & Sunrise (2nd Day) Timing:
Sunset on Chhath Puja 1st Day = 17:35 PM
Sunrise on Chhath Puja 2nd Day = 06:33 AM