5 Tasty Food to Cook at Home Easily Without Onion and Garlic: If you are thinking of making any dish without onion and garlic, then there are many such recipes which you can make very easily at home.
Let us know about some such recipes that can make without onion and garlic:
1- Healthy Sooji Cheela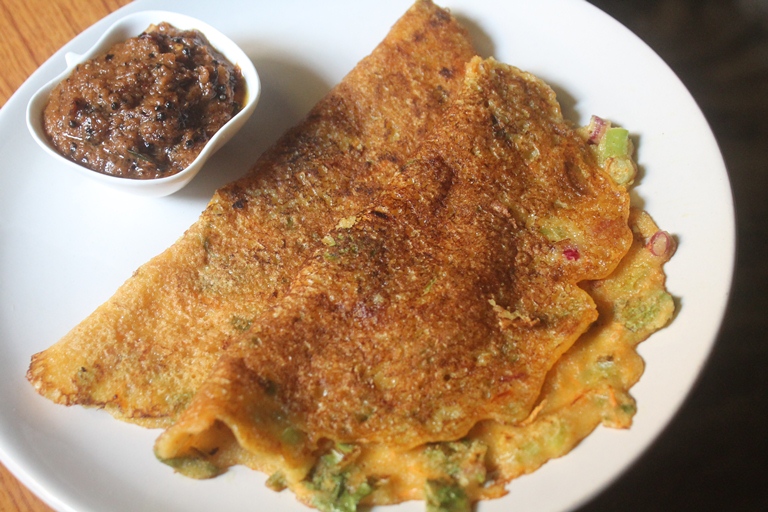 This sooji cheela is a great food item that is perfect for breakfast and snacks since it prepares without onion and garlic it is not only healthy but also simple to make and easy to digest.
Put finely chopped green vegetables in two cups of semolina (sooji). Like a carrot, capsicum, cabbage, beet, green chilli, green coriander, and tomato and add salt as per taste and two spoons of curd then mix it well and make a fine batter. Put a teaspoon of oil in a hot pan and pour the batter little by little and roast it till it becomes crispy on both sides. Now serve hot this delicious dish with any chutney or with tomato sauce.
2- Instant Masala Appam
For Masala- Take boiled potatoes and mash them well.  Put two spoons of oil in a pan and fry cumin seeds and green chopped chillies in it. When it gets fried well, then add mashed potatoes too. Then after adding salt and turmeric, mix everything well and fry it.
Also Check: Easy Tips for Women to Reduce Waist Fat for Perfect Body Without Going to the Gym
For Appam- Now add one cup of semolina, one eno powder, half a teaspoon of sugar and salt as per taste and grind it well. Now heat a non-stick pan (griddle) and coat the pan with oil, when the oil is hot enough, pour one big spoon of batter on the pan. After two minutes turn it over. Make sure the flame is set to medium. Cook it till it becomes crispy from both sides and serve with masala.
It is a famous and delicious dish which is prepared without using onion or garlic.
3- Gujarati Dal
To make this pure vegetarian Gujarati dish, you just need to yellow Tover dal and some other ingredients which are easily available in your kitchen and you can easily make this veg dish in 30 mins. Let's try this…
First take 2 small cups of Tover dal, boil the dal in 500 ml of water by adding salt and turmeric to it. When the dal is cooked well. Add ground ginger green chilli, one teaspoon of cumin powder, coriander powder, fennel powder, red chilli powder, cinnamon powder, and one chopped tomato. Mix all these well and cook on low flame. Heat a little oil and then add mustard seeds, cumin, curry leaves and green chillies to it and add lentils to add tempering, and your dal is ready. This is a famous dish of Gujarat which is made without onion and garlic, you can eat it with roti or rice.
4-Spicy Bhindi 
Wash the 250-gram ladyfinger (bhindi) and a bowl of curd,2 teaspoons of gram flour and 2/3 green chilli and cut them into two parts. Then fry the ladyfinger by adding turmeric and coriander powder in one pan when the bhindi is lightly fried, take it out from the pan. Then put two spoons of oil in the same pan, add cumin, turmeric, red chilli powder, coriander powder and salt and fry it well now put two teaspoons of gram flour in a bowl of curd and mix it well. Put curd mixer in the pan and fry till it becomes thick, after that, add half a teaspoon of roasted bhindi, kasoori fenugreek, and fennel powder and mix it well. When this bhindi masala looks light golden, put off the gas, this spicy bhindi is ready to serve with roti or rice.
5- Masala Aloo Gravy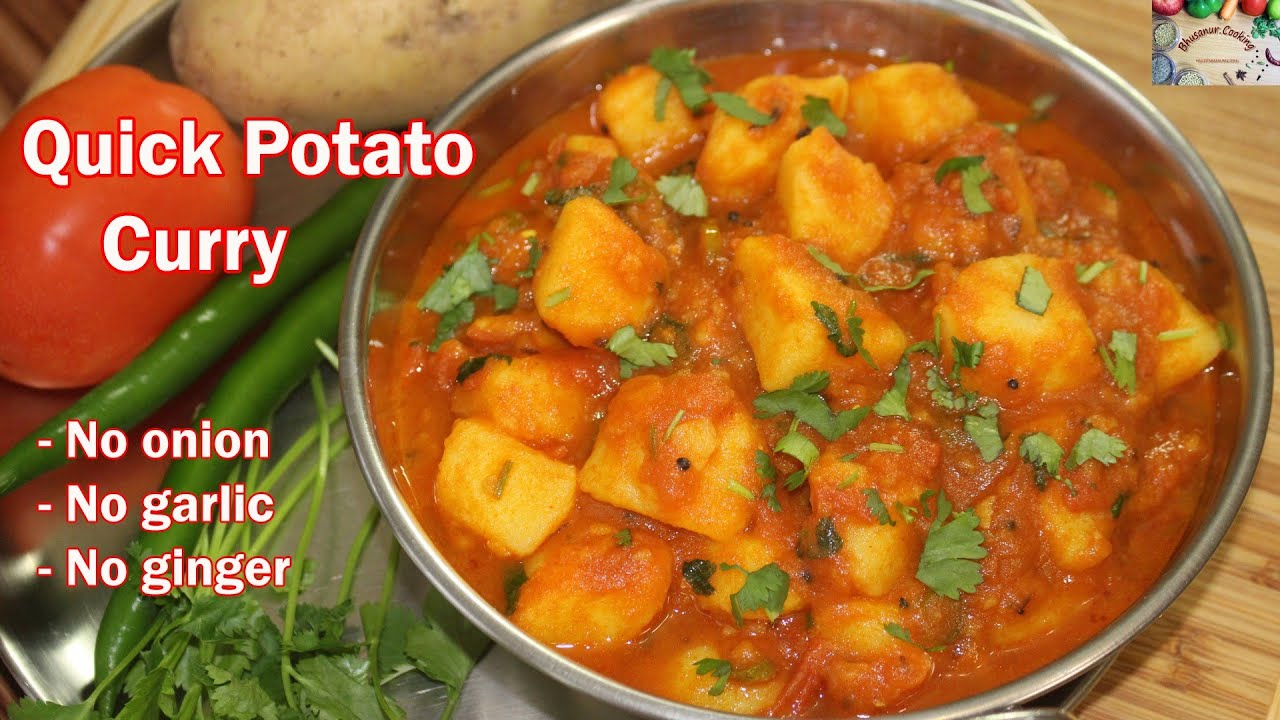 Take 8-10 small-sized potatoes and boil them and fry lightly in a spoonful of oil now take one chopped tomato add coriander powder, and cumin powder and grind it well. Put two spoons of oil in a pan, add half a spoon of cumin seeds and one spoon of red chilli powder and fry it. Now add tomato puree to it and stir well in a medium flame. When the tomato masala is completely cooked, add roasted potatoes to it, add half a teaspoon of kasoori fenugreek and mix it well will serve it now. This tasty pure veg curry is best to eat with roti or puri.