Vishwakarma Puja Time Rituals Muhurat Detail, Vishwakarma Jayanti HD Images with Puja Details: The festival of Vishwakarma Jayanti is the well-known festival of India celebrated as the birth anniversary of Lord Vishwakarma every year on 17th September (last day of Bengali Bhadra month), in the eastern states of India like West Bengal, Orissa, Jharkhand, and Tripura. Employees in the factories and workshops worship their instruments and tools which are used in their profession in front of Lord Vishwakarma.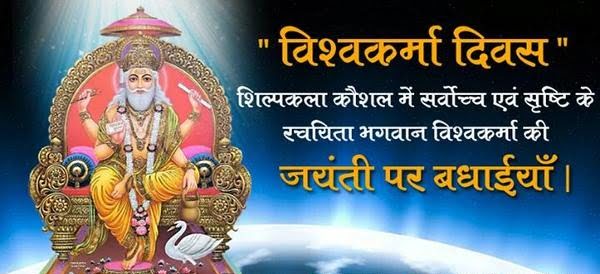 Vishwakarma Puja 2021
The festival is also referred as 'Kanya Sankranti' or 'Bhadra Sankranti'. Vishwakarma Jayanti is celebrated with full eagerness and fervor by laborers, mechanics, carpenters craftsmen, and other workers.
It is believed that Lord Vishwakarma formed the whole universe, earth and heaven recognized for creating weapons used in the mythological period, including the sacred weapon 'Vajra' of Lord Indra, which he made from the bones of sage Dadhichi.
He is considered as the main worker, with quality and fineness in craftsmanship. He is portrayed in images as having four hands, carrying a book, a water-pot, a noose, and craftsman's tools.
Rituals Of Vishwakarma Jayanti
On Vishwakarma Jayanti, prayers and puja are held in, factories, offices shops, and workplaces decorated with flowers, and wear a festive look on this day. On this day, devotees worship Lord Vishwakarma with a vehicle and also worship their tools on this day, the work remains closed for the day.
The families of the workers also participate in these festivals. After the completion of puja, Prasad is distributed among all the workers. In some regions, there is a tradition of flying kites on this day.
Vishwakarma Puja 2021 Time Rituals Muhurat
Puja Date: Monday, 17th Sept 2021
Puja Timing/Muhurat Start: 07:01 AM
Vishwakarma Puja HD Images/Wallpapers
Vishwakarma Puja HD Images
Vishwakarma Puja Wallpapers
Vishwakarma Puja Images with Quotes
Vishwakarma Puja Facebook & Whatsapp Status