H-1B visa is an employment-based designed to be used for foreign employees with highly specialized skills. The United States offers 85,000 H-1B visas every year, which comprise of 65,000 for general allocation and 20,000 for US Advanced degree allocation for Master's students. An employer must offer a job and apply for your H1B visa appeal with the US Immigration Department.
Most of which are snapped up by Indian outsourcers whose employees fill a skill gap in US engineering. Applications are hugely oversubscribed and visas are allocated via a lottery system. The Trump administration says- this lottery system which is misused by Indian organizations, a charge denied by industry body NASSCOM.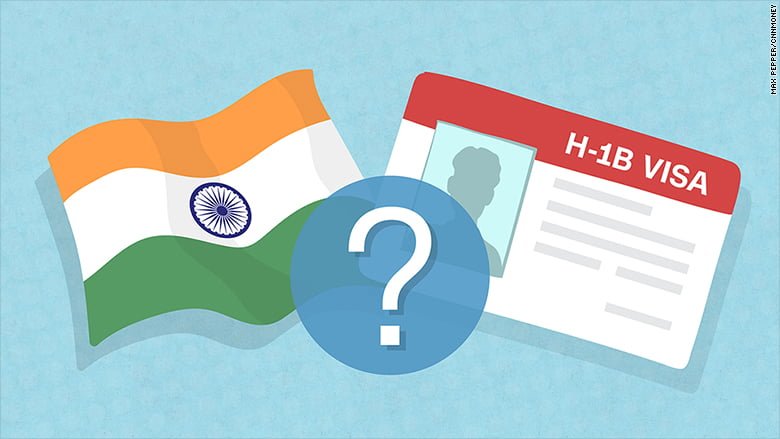 Image source: money.cnn.com
While Indians have been the biggest beneficiaries of H-1B visas, the expected change of substantial increase in minimum salary level might force IT companies to take away US jobs elsewhere to countries like India."
Here's all you need to know on the visa, the changes and the impact on Indians:
What is the H-1B visa program?
• The H-1B visa is an employment-based, non-immigrant visa category for impermanent workers. An employer must offer a job and apply for your H-1B visa appeal with the US Immigration Department.
• The program is open to a broad range of professions, including architects, lecturers, and even fashion models.
• It is designed for jobs requiring specialized skills that cannot be filled by a US employees. Many of these professions happen to be in tech.
• According to the US Labour section, the top 3 H-1B jobs are application software developers, computer programmers and computer systems analysts and those 3 account for roughly half of the department's H-1B certifications.
• The tech industry says companies have trouble filling positions with American employees and must turn to other countries through this program.
What are the changes?
The purpose is to change or replace the current lottery for H-1B visas with a merit-based system that will restrict the visas to highly skilled employees
How will Indian be impacted?
Nearly 86% of the H-1B visas issued for employees in computer professions go to Indian employees, according to a Computerworld analysis of government data received through a Freedom of Information Act request. One expected change in rules is the increasing of the minimum salary of H-1B visa holders to $130,000.