8 Best Bars in Delhi NCR for Couples with Address & Average Cost: Couples are always lookout for a place where they can spend quality time together. Some bars in Delhi NCR are famous for couples where they can enjoy bar culture with their dinner. Here is a list of the most romantic bars in Delhi & NCR for couples, where you may spend a good time with your loved one there.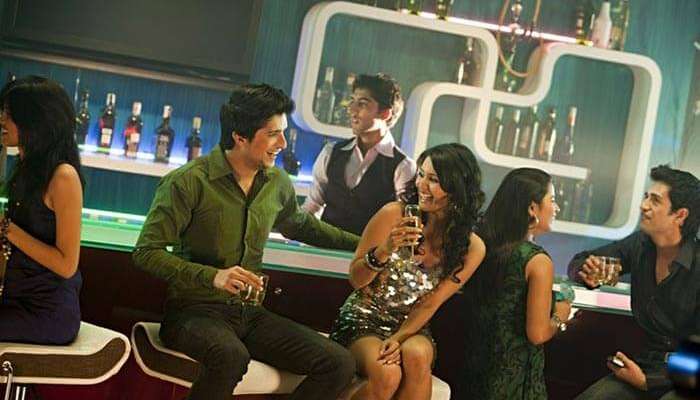 1. Imperfecto Noida
Imperfecto's is Noida's best rooftop Ruin Pub & Bar for couples on a romantic date. Noida's ultimate bar, lives up to its name with its wacky design, boozy cocktails, and live music, making it one of the top nightclubs in the city.
Address: Garden Galleria mall, Noida Sector 18, and Logix City Center Mall Noida
Price: The cost is INR 2,500 for two people, including beverages.
2. Summer House Cafe, Hauz Khas
Renowned for late-night music performances and never-closing bars, Summer House Cafe is located on the edge of Hauz Khas Village's never-ending cafe lanes. This beautiful luxury bar in Delhi, particularly known for its live music and Monday night Karaoke. This Cafe is a popular choice for couples looking for a bar in Delhi.
Address: Hauz Khas is the nearest metro station.
Price: INR 1,800 for Couple, including beverages Time Machine
3. Time Machine
Another fantastic Bar in Delhi NCR for couples to visit is Time Machine, which is located in Noida. A themed restaurant and pub that transports you to another era. Most young couples enjoy going there because of the unique gothic design, exquisite cuisine, and amazing music. The couple may also watch live cricket and football matches on the Bar's large screen.
Address: less than a kilometre away from Noida Sector 18 metro station.
The cost is INR 2,000 for two people, including beverages.
4. SKY Lounge Bar and Grill
Dining on the patio with your lover elevates your date to a whole new level. Sky Lounge Bar and Grill is Delhi's lovely terrace lounges are located on the 19th floor of a building in Connaught Place, it's particularly popular for couples. This bar is also ideal for spending quality time in the evening or late at night.
Address: Ashoka Rd, Janpath, Connaught Place, New Delhi,
Cost for two: ₹2500
5. Molecule Air Bar
The lounge is intended to seem like a chemistry lab, the cuisine serves in the shape of science lab materials, lighting is in the form of molecules, and the menu looks like World War II memorabilia. These are all aspects that set Molecule Air Bar apart from the others. Their cuisine is a fusion of European and Mediterranean flavours. Indian and Chinese cuisines may make this pub more appealing to couples.
Address: Sector 29, Gurgaon, SCO 53, 4th Floor, Main Market
The average cost is 1,500 for two people (including alcohol)
6. Olive Bar and Kitchen
Mughal Haveli, a European restaurant and Bar in Delhi, has made it onto the list of top romantic bars in Delhi. The interior design is distinctive, and the white walls are stunning. You can view the Qutub Minar from the terrace this time, which will add to the romance of your date.
Address: Kalka Das Marg, Seth Sarai, Mehrauli, New Delhi,
Price:  ₹4,000 for two person without alcohol
7. The Flying Saucer Cafe
The Flying Saucer Café is a romantic gastro pub for couples, with exclusive outside seating and a menu that includes Continental, Mediterranean, and North Indian cuisines. You may expect high-quality meals and a large selection of booze. Couple dining enhanced with live music, a relaxing atmosphere, and attractive décor.
Address: Epicuria Mall, Nehru Place Metro Station, New Delhi.
Rs.1,600 for two people  (including alcohol)
8. Lord of the Drinks
Lord of the Drinks, located in the centre of Delhi in Connaught Place. If you want to hang out with high-quality booze, here is the place to go to experience authentic bar culture. The bar is popular with young couples and is ideal for having fun with your partner.
Address: G-72, 1st Floor, Outer Circle, Connaught Place, New Delhi
Rs.2,200/- for two people with alcohol