Nitish Kumar took oath as the Chief Minister of Bihar 6th time today at 10 am, after he resigned from the Chief Minister post on Wednesday evening.  Nitish Kumar submitted his resignation to Governor Keshari Nath Tripathi, after accusing RJD chief Lalu Prasad Yadav and the Congress for making it impossible with him to continue with the 'mahagathbandhan' in Bihar. He resigned as Bihar CM after JD(U)'s legal meet on Wednesday. PM Modi congratulated him (Nitish Kumar) on twitter for "joining fight against corruption".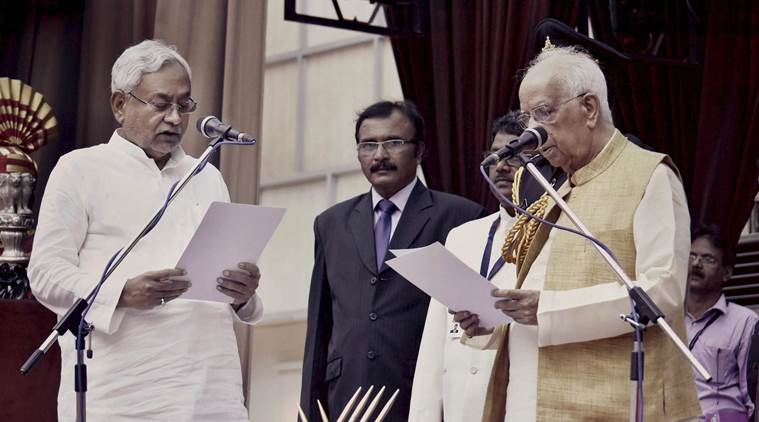 Photo Credit: indianexpress.com
Bihar Governor, Nitesh Kumar, and Sushil Modi Arrived at Raj Bhawan, Patna
Bihar Governor, Keshari Nath Tripathi, and  Nitish Kumar arrived at Raj Bhawan, Patna, Sushil Modi reached Raj Bhawan shortly after PM Modi. The ceremony begins at Raj Bhawan, where he has been sworn as Bihar Deputy Chief Minister.  Kumar has been asked by , Keshari Nath Tripathi to prove his majority in the Assembly on Thursday, 29 July of taking oath at 10 am today. Bihar governor invites Nitish Kumar to form the government. The preparations underway at Raj Bhavan for oath-taking ceremony of Nitish Kumar.
Ousted deputy CM Tejashwi said media that the RJD would demonstration the decision. "RJD is the single biggest party should have been welcomed to form the govt. We are taking legal advice and will move court against the governor's decision,"
Bihar Deputy Chief Minister Tejashwi Yadav and his brother Tej Pratap Yadav led RJD workers and MLA's in a march towards the Raj Bhavan at around 2:30 am on 26 July.
After meeting Governor Keshari Nath Tripathi, Tejashwi Yadav said the media that they have requested the former to wait for the swearing-in ceremony which is to be held at 10 am, and to give the RJD an option to prove majority on the floor.
Sushil Kumar is new Deputy CM of Bihar
Senior BJP leader Sushil Kumar Modi has been sworn in as the new Deputy Chief Minister.  Sushil Kumar told the reporters that the Governor welcomed the JD(U) and the BJP for oath-taking ceremony at 10 am on Thursday. He also said that letter with supports of 132 MLAs has been sent to the Governor. Tejashwi Yadav lashed out at Nitish Kumar as he questioned his hurry to be re-appointed as the Bihar's CM.