5 wealthiest female CEO from India: Indian women are continues rising to prominence in leadership, which Everyone will be inspired by the work and success stories of these females. We have compiled a list of the top Indian female CEOs who have served as an inspiration to many women throughout the world.
1. Leena Nair, CEO of Chanel
Leena Nair was designated Global CEO of the French luxury fashion business Chanel in January 2022.  She was Unilever's first Asian and youngest-ever chief human resources officer as well as the company's first female top human resources executive. 
She is the daughter of K. Karthikeyan (a Member of the Legislative Assembly of Tamil Nadu) and hails from Kolhapur, Maharashtra. She Graduated in Electronics and Telecommunication Engineering at Walchand College of Engineering in Sangli. Later she received a gold medal from XLRI – Xavier School Management Maharashtra in 1990-1992.
She was named Great British Business Woman Role Model of the Year in 2021, as well as the 'Global Indian of the Year' award in the Economic Times' Prime Women of 2020 edition.
2. Revathi Advaithi, CEO of FLEX
Revathi Advaithi began her work at Eaton in Shawnee, Oklahoma, as a shop floor supervisor. In 2019, she became the Chief Executive Officer of Flex, formerly known as Flextronics, a global supply chain and one of the world's largest manufacturing companies. She is also a major supporter of women in STEM fields, and she is responsible for formulating sustainable manufacturing solutions for a wide range of industries and markets.
Also Read: 5 Ultra Rich and Beautiful Female Entrepreneurs in India 2022
Advaithi graduated from Birla Institute of Technology and Science with a bachelor's degree in mechanical engineering in 1990 and Thunderbird School of Global Management with a master's degree in business administration in 2005. Advaithi is an Indian female who was named to Fortune's list of the most powerful women in the world for the years 2019 and 2020.
3. Roshni Nadar Malhotra, CEO of HCL
Roshni Nadar Malhotra is the third richest female CEO in India and the chairperson of HCL Corporation, the holding company for all HCL Group entities. Roshni has the challenging responsibility of growing HCL beyond the foundation laid by founder Shiv Nadar. One of India's top five IT services organisations and one of the country's top 20 publicly traded companies.
She graduated from Northwestern University with a bachelor's degree in communications and an MBA from the Kellogg School of Management. She's also the founder and trustee of The Habitats Trust, an organisation dedicated to the protection of habitats and their natural wildlife.
4. Sonia Syngal, CEO of GAP Inc.
Sonia Syngal, CEO of GAP Inc, the largest specialised apparel brand in the United States, was born in India but raised in Canada after her family immigrated when she was a child. In March 2020, she was appointed CEO of Gap Inc. with a workforce of over 100,000 workers, she oversees the company's portfolio of lifestyle brands, which includes Old Navy, Gap, Banana Republic, and Athleta, across all countries and channels. Syngal was one of 37 women CEOs at Fortune 500 firms at the time of her selection as CEO in March 2020.
Sonia and her family eventually settled in the United States, where she did a bachelor's degree in mechanical engineering from Kettering University in 1993. In 1995, She did a master's degree from Stanford University in manufacturing systems engineering.
5. Padmasree Warrior, CEO of Fable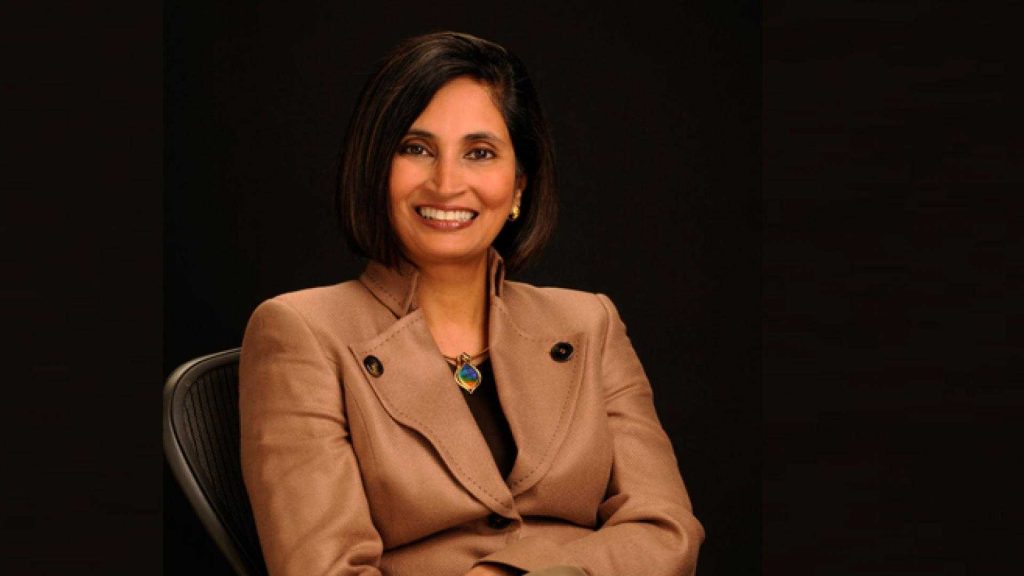 Padmasree Warrior is an Indian American businesswoman and technology executive who was born Yellepeddi Padmasree. She is famous for her leadership roles in technology companies such as Cisco, where she was the Chief Technology Officer for seven years. She was the Chief Technology Officer for five years at Motorola and CEO of NIO USA, a company that makes electric vehicles. She is currently CEO of Fable, a mental wellness-focused curated reading platform. She is a member of the Microsoft and Spotify boards of directors.
Padmasree was born in Vijayawada, Andhra Pradesh, India to a Telugu family. She attended Vijayawada's Children's Montessori School and Maris Stella College for her education. In 1982, she graduated from IIT Delhi with a bachelor's degree in chemical engineering. She graduated from Cornell University with a master's degree in chemical engineering. She is the fifth Indian female CEO on our list, who has a passion for technology, innovation, and global business.