7 Hottest Celebrity Nail Trends in 2023: Nail Ideas – Celebrities are renowned for creating trends, which is also true of the latest nail trends. Cherry red, hot pink and neon tints are among the most fashionable bold hues and patterns right now. Celebrities are experimenting with distinctive nail art, such as a casket, stiletto, and almond patterns, to give their personas a little edge. These striking hues and different shapes can add a flash of personality and make a statement to any ensemble.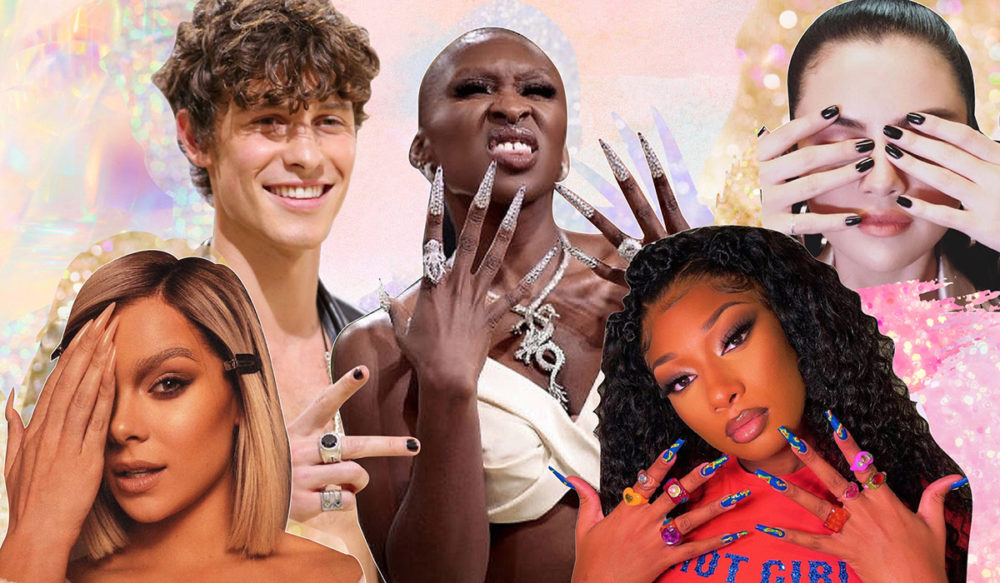 This blog brings some of the latest celebrity nail art design ideas to get you started on giving your nails the celeb touch.
Bold and Bright Colors Nail Trends:
One of the hottest celebrity nail trends in 2023 is the use of strong, vivid colours. Celebrities including Hailey Bieber, and Megan Thee Stallion are sporting these striking hues, which range from vibrant pinks to brilliant blues. Top manicurists agree that this year's must-try trend for nails is bold, vibrant colours. There is a vast variety of colours available to pick from to keep in style, ranging from vivid pink and green to more subdued, neutral basics.
Neon Yellow- This bright colour offers a joyful flash of colour and is ideal for the summer. It may be used with other neon hues or black for a striking contrast.
Animal designs– Whether they are snakeskin, zebra, or leopard designs, animal prints are a daring and well-liked option for nail art. They can be created using conventional colours or less common hues.
Metallic Gold- This gleaming colour gives every nail design an air of wealth and grandeur. It may be used as the primary colour or as an accent for a strong, striking appearance.
Tie-Dye- This cool design is returning in both beauty and fashion. Tie-dye nails can be created in classic rainbow colours or peaceful tones for a more contemporary look.
Bold Geometric pattern- Geometric art with bold lines and vivid colours is eye-catching. These may be created in a range of sizes and shapes, and they stand out more on shorter nails.
Also Check: Pros and Cons of Wearing Short Skirts & Dresses
Intricate Nail Art Designs
Celebrities will also be sporting intricate nail art designs in 2023. For those wishing to add creativity to their nails, there are several alternatives available, from negative space manicures to Y2K-inspired acrylic nail art sets. Celebrities with elaborate and distinctive nail art have been photographed wearing them, including Lizzo, Dua Lipa, and Selena Gomez. People may express their personalities and originality through these patterns in their nails.
Hand-Painted Nail Art 
Hand-painted nail art is easy. Shades of mystery, shades, and golden finishes define contemporary textures and finish trends. Most of the girls find it easy to add designs like flowers & petals to their fingernails. These trends show that nails can be more than a finishing touch; they can also be a statement piece that provides every ensemble individuality and flare when the flower's petals have a noticeably brighter hue than the background.
In the modern fashion world, the specialised field of nail art has seen growth in popularity. Today, nail art tends to be seen as a reflection of the diverse personalities of Hollywood and Bollywood celebrities. By experimenting with different looks, you may also join in on the fun. This blog can assist you with a few pieces of artwork.